Athens Gem St. George Lycabettus hotel undergoes a transformative renovation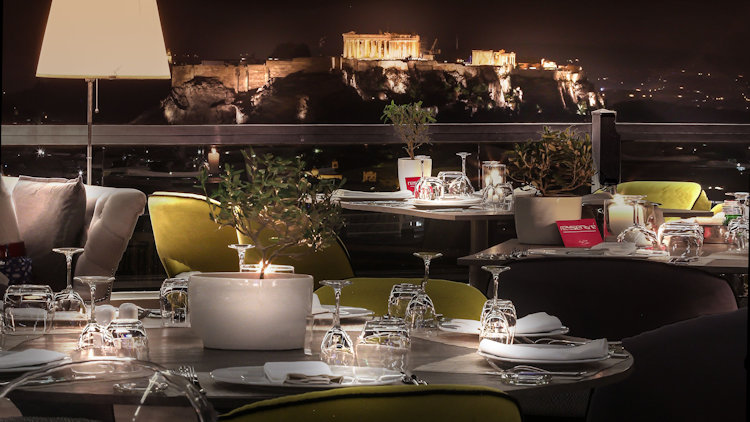 Greek owned and operated for 50 years, nestled amid the wooded slopes of Lycabettus Hill in Athens' Tony Kolonaki district, St. George Lycabettus is perfectly positioned just above the beating heart of the city offering some of the most spectacular views. most coveted across the Greek capital to the Acropolis and the Saronic Gulf beyond.
And now this historic five-star hotel, which has hosted VIPs, celebrities and the glamorous jet set for decades, is undergoing a complete makeover by redeveloping all of its 150 rooms and 10 suites, public spaces, including the gourmet restaurant. The Suite, the rooftop lounge and pool bar, SG art gallery, 30-seat VIP screening room, event rooms and Greek designer boutique, all culminating in an eclectic design-inspired aesthetic. of global and Greek art, fashion and photography.
Food, art, culture, environmentalism, philanthropy and the emphasis on health and wellness are the hallmarks of the hotel with a hands-on approach to supporting the local community.
ACCOMMODATION
Reinvented by Greek architects Katerina Efthimiou of Positive + Architects and Maria Papadriantafillou and Omniview Design, some floors of the hotel have been designed with different creative artistic themes highlighting fashion, art and photography.
The rooms on the second floor are dedicated to the world of fashion with timeless Greek designers such as Yiannis Tseklenis and Loukia and contemporary designers such as Mary Katranzou, Sophia Kokosalaki, Vassilis Zoulias, Daphne Valente, among others. The suites are dedicated to internationally renowned personalities such as Jean-Claude Jitrois, Anna Molinari and Pierre Cardin who were in fact regular guests of the hotel.
The fifth floor is dedicated to Greek painters such as Dimitris Mitaras and Achille Drougas, while the first floor is dedicated to Greek photography, and a number of rooms thematically dedicated to famous Greek writers and poets who resided in the region such as Elytis, Kazantzakis and Papadiamantis.
GASTRONOMY
The heart of the hotel is the all-day rooftop gourmet restaurant, La Suite Lounge, which serves modern Mediterranean cuisine with stunning panoramic views from the dining room or al fresco from El Grand Balcon. The space has been updated with contemporary design details like distinctive emerald green dining chairs and other statement furniture, art-inspired dining tables and accent pieces.
Over the years, St. George has collaborated with award-winning guest chefs from around the world and this year Executive Chef Vasilis Milios has teamed up with French Michelin-starred chef Geoffrey Rembert to create a Franco-Greek fusion menu "From Paris to Athens . "The menu will combine classic French bistro dishes with the quintessential flavors of Greece, showcasing fresh, local produce and ingredients and Greek herbs from the chef's garden.
SUSTAINABILITY + PHILANTHROPY
In cooperation with Coco-Mat, a leading Greek brand of eco-sustainable bedding, the hotel has designed a new Eco-Chic wing with "green" rooms reflecting high aesthetics while minimizing negative environmental impact. The Eco-Chic rooms feature 100% natural materials and Coco-Mat mattresses and products, each selected to provide excellent sleep and relaxation.
The hotel remains focused on social responsibility from fundraising to donating a portion of the event's proceeds to charity, and in order to tackle food waste, the hotel has an ongoing partnership with Boroume, a non-profit organization connecting food surpluses to the homeless and less fortunate. Greece.
ART + CULTURE
Despite its privilege next to the cultural sites and museums of the city center, St. George Lycabettus has its own space for art and culture, the SG Art Gallery, which hosts Greek and international exhibitions. The latest addition to St. George Lycabettus is the New Screening Room, a VIP cinema room that can seat approximately 30 people and available for private screenings, book presentations, conferences and other events.
Another cultural event that takes place in St. George is the long-standing collaboration with the Kappatos Gallery. Every year since 1999, an entire floor of the hotel has been transformed into a dedicated gallery under the title "ROOMS". All rooms are converted into art venues and host art projects and installations by established and emerging Athenian artists.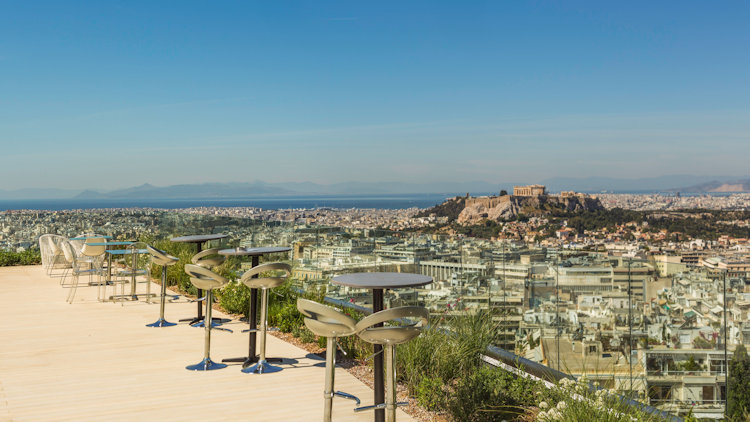 HEALTH, WELL-BEING + EXTERNAL LIFE
For fitness enthusiasts, a fully equipped gym is available as well as the Ananea Yoga and Pilates Studio offering personal and group workouts as well as top-floor spinning classes and sunset yoga sessions during the summer months. Not to be missed is a rejuvenation session at the Aegeo Spa, highlighting local ingredients and products.
During the summer season, the open-air rooftop Vertigo Pool Club is an urban oasis and the perfect location with spectacular 360-degree views of the city. Guests can soak up the magnificent Greek sunlight and savor fresh juices, smoothies and snacks throughout the day, then switch to traditional appetizers, refreshing cocktails and aperitifs until the evening while lounging on large floor pillows, ottomans and daybeds to enjoy the most impressive sunset in town. .
Winter low season rates for a standard room start at 145 EU and summer high season rates start at 280 EU including breakfast and taxes.
St. George Lycabettus Lifestyle Hotel is located in Kleomenous 2 Kolonaki, Athens, Greece. For more information please visit www.sglycabettus.gr, call directly +302017416000