Churchill Downs chef-in-residence takes charge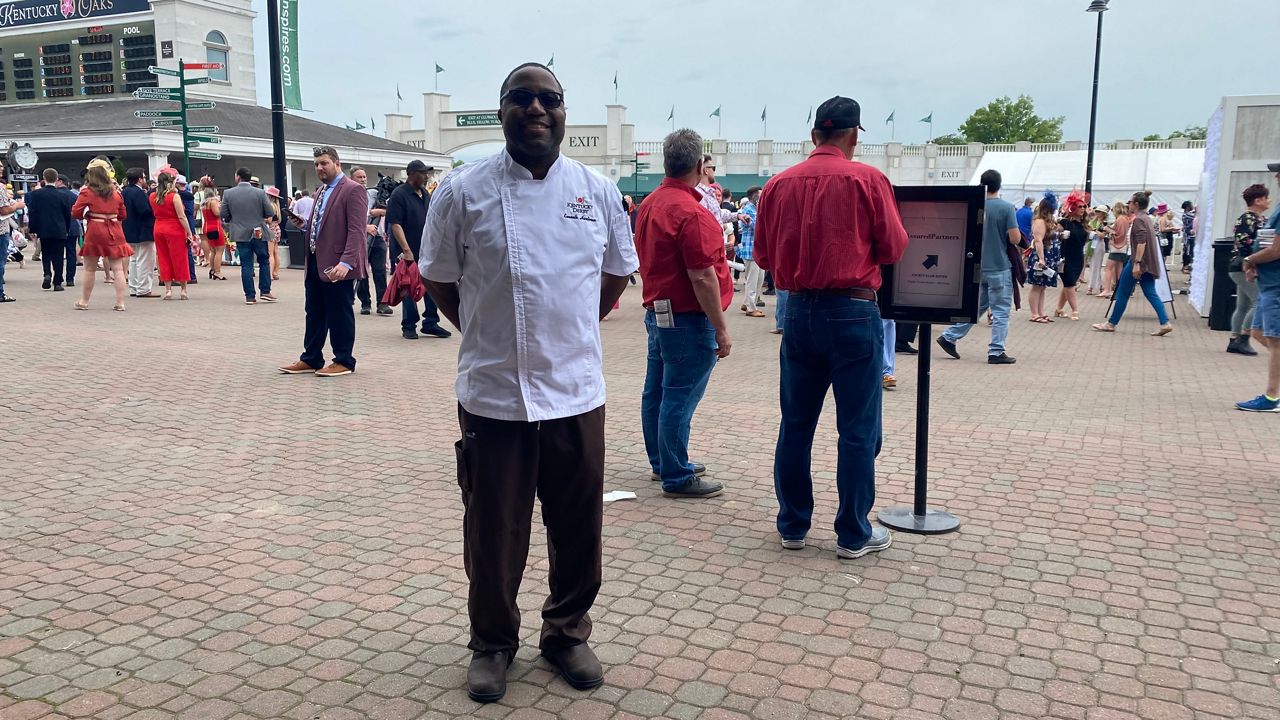 LOUISVILLE — Former Churchill Downs executive chef David Danielson had likely served food to hundreds of thousands of people down to a science after 11 years in the job. When Danielson left his job to become head of restaurant operations at the Log Still Distillery in Gethsmane, Kentucky, someone had to step in and take the reins. That person is Chief Kenneth Hardiman.
---
What do you want to know
The Kansas City native was most recently head of food service at the Milwaukee Bucks arena
Hardiman came to Churchill Downs in February to replace the former chief
He's working his first Kentucky Derby as an acting chef
Hardiman says planning is key to serving hundreds of thousands of people
---
Hardiman arrived at Churchill Downs in February from Milwaukee, Wis., where he was food operations manager at Fiserv Forum, home arena for the National Basketball Association's Milwaukee Bucks.
Hardiman said he worked for Levy, a Chicago-based catering and hospitality company that specializes in providing food and beverages to major entertainment and sports venues, including Churchill Downs, in a regional role.
"I'm just the chef-in-residence," he said on the Thursday before the Derby. "It's an interim role, but that doesn't change the fact that I'm here to do this and I'm doing it the best I can. It is a challenge that I look forward to. (It's) a fair honor to say that I was the leader of the Kentucky Derby.
Hardiman is an experienced executive chef with a background working in the food and beverage industry. He said his skills include menu engineering, catering, budgeting and fast casual. A native of Kansas City, he graduated from Brown College Le Cordon Bleu in Minneapolis, Minnesota. Hardiman has transformed more than half a dozen independent restaurants from the Midwest to the West Coast into award-winning establishments and has won several awards and competitions.
Hardiman told Mariah Kline of Churchill Downs magazine that every company he worked for and every city he worked in taught him something.
"It always continued to be part of me," he said. "When I look at cooking, I want people to clearly see where I came from when I started to where I am now – the growth and the different sides of me."
Hardiman's creations for the Derby and the days leading up to it include classic Kentucky dishes and seasonal favorites.
"I hope to bring the Kentucky feel," he said. "There are probably going to be crowds the likes of which we haven't seen in a long time due to the pandemic. I want to make sure everyone has the same feeling as in previous Derbys and make this one even better.
Although he's never done it, Hardiman has a plan to cook for so many people.
"A lot of planning and a lot of teamwork," he said. "There are a lot of logistics behind it. You just have to be fluid and flexible. There's a lot of things that we kind of went through with the pandemic that taught us certain things, and then we're just going to build on that. »
Hardiman serves a Benedictine spread, said to have been invented in Louisville around the turn of the 20th century by Jennie Carter Benedict, on a charcuterie board. His recipe for it and all of the official menu items are on the Kentucky Derby website.
Hardiman has an identical twin brother and enjoys drawing, reading, going to church, and spending time with his wife, Lindsay, and son, Clayton.