Five minutes with Aaron Ward, the new chef at Shell House Dining Room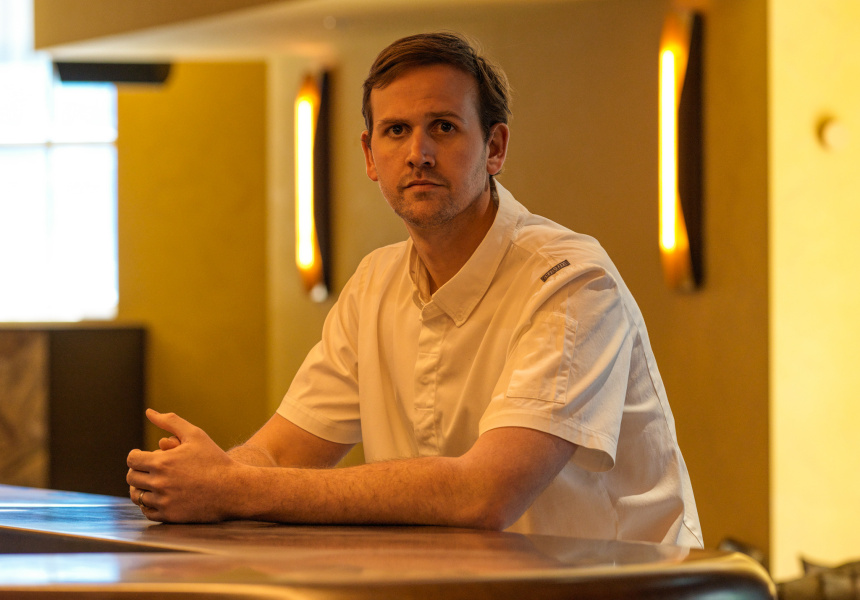 Chef Aaron Ward moved to Sydney from Newcastle in 2011 and soon after started working at Stanmore Fine Diner Sixpenny, where he rose through the ranks to become a sous chef. After winning the highly respected Appetite for Excellence Young Chef of the Year in 2016, he traveled abroad to work at the Copenhagen restaurants Relae and Amass.
Upon his return, he took on the role of Sous Chef at Lumi Dining, then moved to Ester's Kitchen in Chippendale. In 2019, Ward's career came full circle when he was appointed chef at Sixpenny, where he has remained until now.
But now he's ready for his next challenge: he's been appointed Chef de Cuisine at the Shell House Dining Room, hosted by the monumental four-in-one Shell House, which will soon open. Spanning multiple levels, Shell House's first stage is expected to launch shortly after the Sydney lockdown ends. The Menzies Bar on the ground floor will offer a European bistro-style setting, followed by the Shell House Dining Room and Bar on the ninth floor and a rooftop cocktail bar later this year.
Ward will work under the direction of Culinary Director Joel Bickford, who has just taken charge of the project from his role as Executive Chef at Aria. Expect fun and fresh produce-based dishes.
"Whether it's an all-day bar-bistro, whether it's fun and frivolity at the Sky Bar after work, or whether it's a beautiful dining room. world-class dining or cocktail bar, "Brett Robinson, co-founder and director of The Point Group, which oversees the project, said Large format in August. "We will take people on a little journey through this building and create a whole house of fun."
Here's what Ward has planned for his new role.
What is your new job title?
Shell House Dining Room Chef. This will involve working closely with Culinary Director Joel Bickford to collaborate on innovative menu ideas and lead a supportive and professional kitchen environment.
Why did you decide to move to Shell House?
It was a fantastic opportunity to challenge myself in a bigger restaurant environment and be part of a whole new inspiring venue opening. Plus, the ability to explore a wider side of culinary creativity while baking was something I just couldn't pass on.
Do you have any fun projects or ideas for your new role?
Coming from Sixpenny, which operates on a set menu, I'm glad that I can have more flexibility with an a la carte menu. I have some fun dish ideas that I can't wait to try and develop before Shell House opens.
Do you bring ideas or dishes that you are known for?
I will build on my knowledge and skills that I have gained working in a variety of cuisines and alongside talented chefs over the years. I hope to bring a bit of everything I have learned along the way.
Will we see some cool ideas or dishes that will turn people on?
Can't say too much at this point but consider light and fresh dishes with a menu designed to be shared. The kitchen will be equipped with a two-meter charcoal barbecue which I look forward to using throughout the menu.