WATCH THE VIDEO | 'A Hidden Place': The Tap 814 speakeasy offers a dining experience reminiscent of 'prohibition hours', say owners | New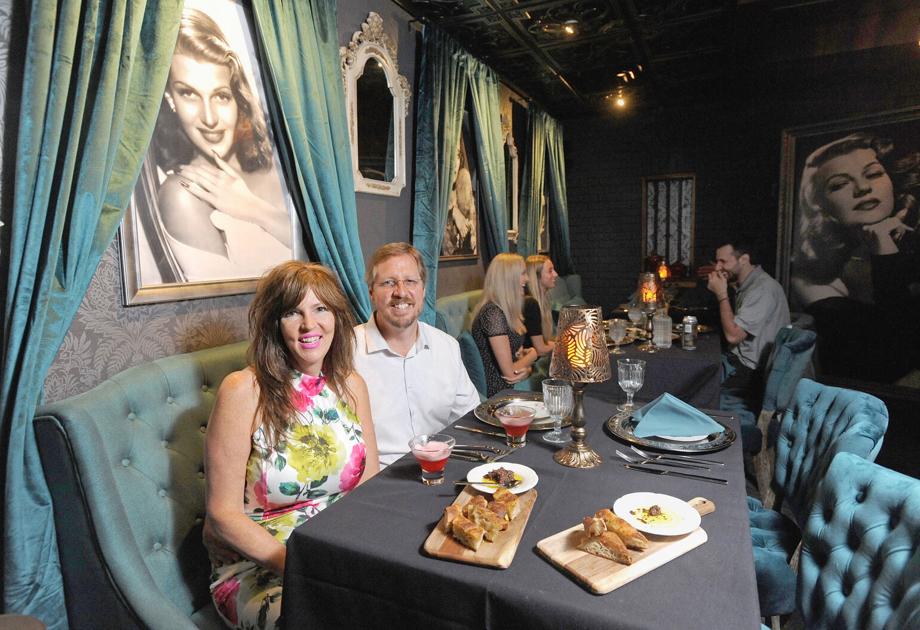 After a meal at Tap 814 recently, Rosalind and Larry Servinsky asked the chef to give her compliments and were shown a "secret" area of ​​the restaurant, which they fell in love with.
Customers arrive and offer a code word. Then, a heavy door opens to reveal a 1920s sweatshop.
"We loved the decor and the personal touches with the chef and the service," said Rosalind.
When Lorrie and Rick McQuaide opened their Tap 814 bar and restaurant in 2018, they sacrificed their original intention of creating a sweatshop atmosphere for large glass doors and an open patio.
But when the COVID-19 pandemic resulted in months of restaurant inactivity statewide, the McQuaids took that time to build a restaurant that is more reminiscent of the Prohibition era, a time when manufacturing, transport and sale of alcohol was prohibited – although this proved difficult to enforce.
Open since February, Tap 814's speakeasy at 800 Scalp Ave. offers a unique dining experience.
Velvet chairs, soft lighting, a working Edison phonograph, and music that plays just loud enough to provide some privacy are just a few details inside.
"Our intention is for this to be a hidden place," said Lorrie.
"No one can see you here."
"Truly About Authenticity" A large starlet portrait is in fact a doorway for waiters who bring first a menu of handcrafted cocktails, then a dinner menu consisting of dishes prepared by a chef using fresh seafood , fresh cut steaks and homemade pasta.
Tap 814 and the adjoining Supper Club are both dedicated to Pennsylvania wine, liquor and food, Rick said.
"We try to showcase everything that is made locally because in the prohibition era you had to get it locally," he said. "So it's really about authenticity here. When you walk in you get something unique.
The underground bar, also called a supper club, is open from Wednesday to Saturday. To enhance the experience, the McQuaids encourage a "smart casual" dress code.
While a table is available for anyone making a reservation, memberships offer perks, including automatic entry to special dinners, free drinks, and reduced corking fees.
In keeping with dinner clubs of the past, members have also reserved drawers for their own bottles of wine or liquor in an on-site locker.
The first of five special events took place about a month ago. Diners sampled six premium whiskeys accompanied by a six-course filet dinner.
The next event, scheduled for June 22, is a wine and Italian evening.
All 20 members of the supper club are couples, Lorrie said.
" Get dressed "
Rosalind and Larry Servinsky joined a few months ago.
"We've been there four times already," Rosalind said. "We like the idea of ​​getting dressed. There aren't many places we can do that anymore; so we really appreciate that. And the food is amazing. This is the total package. The food is absolutely top notch. The chef is so excited, she comes to talk to us and the waiters know us now. It's a very pleasant evening.
Bobby Colvin Jr., another member, agreed.
"The fine cuisine and all the ambiance it creates – it's a great time for friends and family," he said.
The McQuaides also own Tuscan Italian restaurant Asiago's at the Inclined Plane, as well as The Kitchen on Main in Ligionier and The Kitchen on Penn in Murrysville.
"We thought this was necessary for our area as there isn't a lot of this type of catering in Johnstown," said Lorrie. "And Rick and I always think about where we like to go, why we would travel, what we like to do."
Including Tap 814, the four McQuaides establishments are working together to attract customers they might not be alone.
"Asiago has a very large customer base of area code 724, so we have a lot of Ligionier, Latrobe and Greensburg customers because it's only a half hour over the hill," Lorrie said.
"And here at Tap 814 we have people from Ebensburg and Somerset. So because we have all four restaurants and we promote them all together, we get customers going to all of the restaurants. "
Russ O'Reilly is a reporter for The Tribune-Democrat. Follow him on Twitter @RussellOReilly.
Russ O'Reilly is a reporter for The Tribune-Democrat. Follow him on Twitter @RussellOReilly.